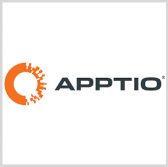 Bellevue, Wash.-based tech software provider Apptio has launched an early adopter program to help government agencies field a machine learning system for technology business management.
The Apptio TBM Unified Model can help assist government agencies and participants in the public sector to immediately gauge information technology costs from financial systems like ledgers and vendor invoices, the company said Wednesday.
Sunny Gupta, CEO of Apptio, said the company will use its more than 10-year experience in TBM deployments to aid the federal government in efforts to address cost analytics requirements from the pursuit of the cloud first policy.
The Office of Management and Budget reported that federal agencies spend more than $90 billion yearly on technology investments, and that they need oversight on the use of funds.
President Trump has identified the improvement of federal IT spending transparency as one of 12 cross-agency priorities in his 12-point management agenda. Trump also wants government-wide TBM implementation by 2022.
ATUM peruses, consolidates and analyzes full and semi-structured data on technology costs from available finance, IT and supplier information.
The company was certified in April by the Federal Risk and Authorization Management Program. It currently provides services for OMB, the General Services Administration, the Homeland Security and Veterans Affairs departments and the Justice Department's Executive Office for Immigration Review.