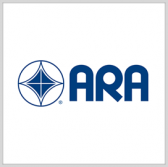 Applied Research Associates will help the U.S. Air Force study and create modern detection technologies under a potential $49.6 million contract for the Advanced Laboratories for Analysis of Sensors program.
The company will support research and development of electro-optical, multispectral and radio frequency systems, sensors, and test methods and approaches, the Defense Department said Thursday.
The contract includes cost-plus-fixed-fee task orders and work is scheduled to be done at the Wright-Patterson Air Force Base by July 18, 2024.
The Air Force Research Laboratory will appropriate $750,000 fiscal 2018 R&D funds for the first task order.
ARA provides engineering, research and technical support services for physical science activities in civil engineering, systems analysis, blast test and measurement, computer software and simulation, and defense and environmental technology applications.