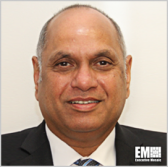 Reston, Va.-based systems engineering and technology services contractor Amyx has received two task orders from the U.S. Army for information technology support services.
The company said the first contract covers medical informatics and cybersecurity support for the Army Medical Materiel Agency and the second task order includes cyber workforce transformation, IT policy, subject matter expertise and resource integration assistance for the service"™s office of the chief information officer/G-6 policy and resources directorate.
The Washington Post also named Amyx in June to its 2018 list of top workplaces in the Washington D.C. area.
Satya Akula, Amyx president and CEO, said the company has made several achievements in the first half of this year and the recognition acknowledges the firm"™s culture and work environment for employees.
Amyx also announced that it achieved in June the ISO 9001:2015 certification for quality management platforms that seeks to demonstrate the company"™s efforts to implement and improve administrative, quality and business planning processes in support of its staff.