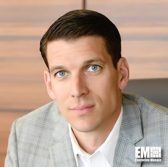 Altamira Technologies has received a potential five-year, $24.6 million contract from the Air Force Research Laboratory to develop a radio frequency sensing technology intended for areas with a contested and congested spectrum.
The company said Tuesday it will use previous work on internal and client-backed RF technology research and development efforts to support AFRL's Distributed Radio Frequency Sensing initiative.
Jonathan Moneymaker, Altamira president, said the company will work with the laboratory to conduct R&D activities in an effort to help military customers operate in spectrum environments.
The project will focus on the distributed and passive sensing, over-the-horizon radar, adaptive signal processing, advanced waveform design and cognitive radio technology areas.
Altamira's patented DSAM technology was among the eight finalists for the American Council for Technology and Industry Advisory Council's 2017 Igniting Innovation Award.