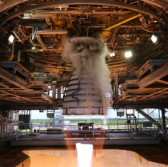 Aerojet Rocketdyne has started a series of 10 firing tests of an engine designed for use on Boeing"™s Phantom Express unmanned vehicle as part of the Defense Advanced Research Project Agency"™s Experimental Spaceplane program, SpaceNews reported Tuesday.
The company performs the 100-second test firings of the AR-22 engine at NASA"™s Stennis Space Center in Mississippi for a period of 10 days and has completed six tests as of Monday.
"We"™re taking and making use of existing hardware, most of it being flight proven," Jeff Haynes, AR-22 program manager at Aerojet, said of the engine.
DARPA partnered with Boeing in May 2017 to help design, build and test a reusable spaceplane through the XS-1 program.
Steve Johnston of Boeing said the company has begun development of flight hardware with plans to hold an overall vehicle review by early 2019 and flight tests by 2021.