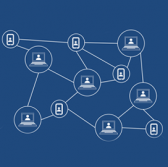 The Department of Veterans Affairs requests information from industry about the potential use of blockchain technology to facilitate a contract close-out process that is transparent and uses agency resources cost-effectively.
The Office of Procurement, Acquisition and Logistics within VA's Strategic Acquisition Center said in a FedBizOpps notice posted Thursday that it seeks a proof of concept on the possible retroactive or prospective use of blockchain in contract close-outs as well as a report on the estimated timeline and cost of implementation.
VA aims to determine the viability of blockchain to support agency contract close-outs, which it said currently involve repetitive and resource-intensive procedures to ensure contract parties have met all requirements, made all payments and cleared any outstanding matter.
The agency noted it anticipates a possible firm-fixed-price contract award for the delivery of the technology.
Responses to the notice are due July 31.