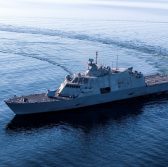 The sixth Freedom-variant littoral combat ship built by a Lockheed Martin-led industry team for the U.S. Navy has finished a series of acceptance trials on Lake Michigan.
Lockheed said Thursday the tests occurred from May 20 to 24 and showcased the surface and air detection features of USS Sioux City , designated LCS 11, as well as aviation support, small boat launch handling and ride control systems.
LCS 11 is among the eight vessels being developed and tested at Fincantieri Marinette Marine's facility. It is scheduled for delivery to the service branch later in the summer.
The next Freedom-variant LCS will be named USS Wichita and is slated to complete acceptance trials earlier in summer.