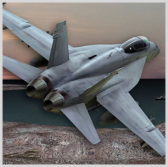 The U.S. Navy has given Rockwell Collins the green light to commence the detailed design phase of a project to modernize the service branch's airborne training platform.
Rockwell Collins said Tuesday it received the approval after completing the preliminary design review for Increment 2 of the Tactical Combat Training System in February.
The company serves as the TCTS Inc. II program's prime contractor and systems integrator under a potential $142.4 million contract awarded in March 2017.
Troy Brunk, vice president and general manager at Rockwell Collins' communication, navigation and electronic warfare solutions business, said the system is designed to increase network capacity five times more than current air combat training platforms.
TCTS Inc. II is meant to replace existing training range infrastructure of the Navy and the U.S. Marine Corps with a system that will feature an open architecture, multiple independent levels of security and live, virtual and constructive training elements.
The system will work to support real-time combat training for fourth and fifth-generation fighter jets and various flight missions that include joint coalition operations.
Leonardo DRS will support Rockwell Collins on the project.