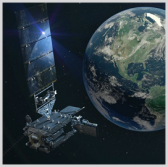 A Lockheed Martin-built weather satellite that launched in March is equipped with Northrop Grumman"™s Scalable Space Inertial Reference Units that work to provide attitude control and sensor pointing capabilities for the spacecraft.
Dean Ebert, vice president of navigation and positioning systems at Northrop"™s mission systems business, said in a statement published Monday the Scalable SIRU is designed to provide stabilization support for satellites needed to generate high-resolution images.
The National Oceanic and Atmospheric Administration"™s Geostationary Operational Environmental Satellite-S, which now operates as GOES-17, took off aboard United Launch Alliance"™s Atlas V rocket from Cape Canaveral in Florida to collect satellite imagery and provide weather predictions across the Western Hemisphere.
NOAA oversees GOES-17 as the second of four GOES-R Series satellites.
GOES-16 is the first of the GOES-R satellites that lifted off in November 2016 aboard the Lockheed-Boeing joint venture"™s rocket.
Northrop said it intends to supply additional Scalable SIRU platforms for remaining GOES-R satellites.