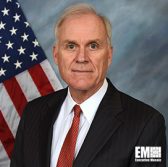 U.S. Navy Secretary Richard Spencer has visited a shipyard in Marinette, Wis., where  a Lockheed Martin-led industry team is building a Freedom-variant Littoral Combat Ship.
Lockheed said Thursday it leads a team consisting of Fincantieri Marinette Marine, Gibbs & Cox and at least 800 suppliers from across 42 states to support the service branch's LCS program.
Spencer, a 2018 Wash100 recipient, visited the Fincantieri facility in Wisconsin to observe the production line and tour the future USS Wichita.
He said the Navy aims to increase the performance of its LCS fleet to support small surface combatants.
The Freedom-variant industry team has invested more than $120 million in shipyard modernization, workforce recruitment and training efforts over the past decade.
Lockheed and its partners have so far delivered five ships and are scheduled to deliver two more later this year.