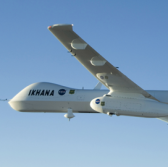 NASA on Tuesday conducted a test flight of a General Atomics-built remotely piloted aircraft to assess the capability of the platform to operate in the national airspace without the use of a safety chase plane.
The Ikhana aircraft took off from NASA's Armstrong Flight Research Center in California and entered into the public airspace where it flew at an altitude of approximately 20,000 feet, NASA said Wednesday.
The unmanned aircraft made its descent on the city of Tehachapi, Calif., at about 10,000 feet before heading to the Victorville, Calif.-based airport to exit the public airspace used by commercial planes.
NASA performed the flight test after it received on March 30 an authorization certificate from the Federal Aviation Administration.
Ikhana has several detect-and-avoid systems that work to prevent collisions with other aircraft during the test flight, including an airborne radar from General Atomics' aeronautical systems business, an Automatic Dependent Surveillance-Broadcast tool, a detect-and-avoid fusion tracker and Honeywell's Traffic Alert and Collision Avoidance System.
NASA's Ikhana MQ-9 Predator B is a 36-foot-long drone that has a wingspan of 66 feet and is designed to carry 400 pounds of internal sensors and more than 2,000 pounds of external pods at an altitude of up to 40,000 feet.
The aircraft serves as a test bed to develop technologies for unmanned aircraft systems and supports NASA's Earth science missions.