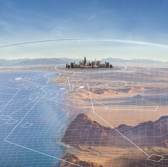 Thales and Microsoft have teamed up to build a cloud platform designed to help the armed forces and other defense clients store and secure classified and sensitive data within their information technology infrastructure.
Microsoft said Tuesday it will integrate its Azure Stack hybrid cloud platform with Thales' cybersecurity and encryption tools to develop the defense cloud offering that could be deployed on the field.
Thales will leverage its experience as a field integrator to support the development of a cloud platform that could be used by service personnel to carry out national security missions in remote areas and other challenging environments.
Philippe Keryer, executive vice president for strategy, research and technology at Thales, said the company's partnership with Microsoft will support the armed forces' changing security needs and digital transformation efforts.
The partnership came after Thales unveiled a private cloud platform – Nexium Defence Cloud – for the armed forces.