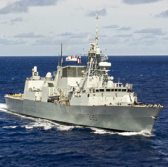 Lockheed Martin will continue to provide in-service support for the Canadian navy's 12 multirole patrol frigates for an additional three years under a contract extension.
The company said Tuesday it began to support the fleet in late 2008 as part of the $2 billion Halifax Class Modernization project, for which Lockheed's Canadian arm serves as the prime contractor and combat systems integrator.
Under the contract, the company worked to integrate weapons, sensors and information sources on the frigates before they entered the shipyard to undergo upgrades.
Lockheed also helped manage the frigates' Combat Management Systems, subsystem interfaces, tools and ancillary systems.
The company's in-service support team has supported the Canadian navy's trainers, CMS and command-and-control systems over the past 25 years.