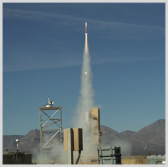 Lockheed Martin will proceed with the development of an artillery, mortar and rocket threat interceptor under a $2.6 million contract from the U.S. Army.
The company said Wednesday it has completed the science and technology phase of the Extended Mission Area Missile Program by the Army Cruise Missile Defense Systems Project Office.
Work for the next phase will include several test flights for the evaluation and demonstration of the Miniature Hit-to-Kill interceptor's readiness for the manufacturing stage.
A test held in January validated the MHTK's agility and the performance of the airframe and electronics, which are common to the interceptor's semi and active radio frequency seeker configurations.
Future MHTK tests will utilize investment and contract funds.
The interceptor is warhead-free and is geared to use body-to-body contact to neutralize fired munitions for close-range lethality and layered defense.