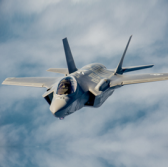 Lockheed Martin and the F-35 Joint Program Office have delivered the 300th F-35 aircraft.
The 300th Lightning II unit is an F-35A variant assigned to the U.S. Air Force's Hill AF Base, the company said Monday.
At present, 197 conventional takeoff and landing variants, 75 short takeoff/vertical landing variants and 28 carrier variants compose the combined F-35 fleet.
Over 620 pilots and 5,600 maintainers for the F-35 have received training, and the aircraft cumulatively have flown for over 140,000 hours.