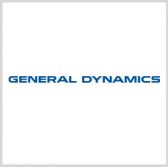 General Dynamics"™ ordnance and tactical systems unit has received a potential $33.8 million contract to manufacture ground mobility vehicles and associated kits for the U.S. Army.
The Army Ground Mobility Vehicle platform to transport an airborne infantry squad and carry more than 5,000 pounds of payload, General Dynamics said Wednesday.
Contract work is scheduled to be completed in March 2019.
AGMV shares nearly 90 percent parts commonality with the manufacturer's  GMV1.1 configuration currently being delivered to the Defense Department,
The platform employs an open architecture that works to support existing remote and manned turrets, armor and arctic kits.
Both GMV1.1 and AGMV models are part of a family of vehicles General Dynamics developed with Flyer Defense.