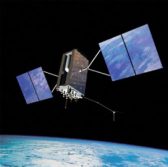 A new Frost & Sullivan analysis predicts the U.S. market for defense satellites will experience a 10.3 percent compound annual growth rate and reach approximately $30.3 billion in the next five years.
The market research firm said Tuesday the potential market growth can be attributed to the Defense Department"™s efforts to strengthen its satellite infrastructure through modernization, program funding and offensive and counter space programs against cyber warfare.
The report cited five trends that could offer growth opportunities for the U.S. defense satellite market, including the development of long-lasting satellite materials that could protect signals through the use of encryption technologies and spending on position, navigation and timing technologies.
Frost & Sullivan forecasts the U.S. Air Force"™s defense satellite spending will reach approximately $28.04 billion by 2023 and that DoD will forge new partnerships with the private sector to speed up program timelines and facilitate research-and-development work.
PNT and communications areas were the two largest spending segments in 2017, the report noted.
"As a nation with the largest number of satellites, the US DoD is taking every precaution to protect against adversaries"™ evolving threats and ensure that space systems are constantly operational," said John Hernandez, senior industry analyst for defense at Frost & Sullivan.
"Resilient satellite communications, PNT and reliable weather data are imperative for successful military operations as well as ensuring robust missile detection," he added.
Industry players cited in the report include Harris, Raytheon, Lockheed Martin, L3 Technologies and United Launch Alliance.