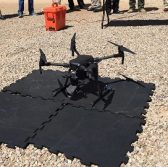 Drone Aviation has partnered with Drone Nerds to demonstrate a tether system during the Aerial Logistics and Emergency Response Technology Expo that will take place Tuesday in Yaphank, N.Y.
Representatives at more than 200 government agencies such as the FBI, Secret Service and the New York Police Department are expected to attend the event that will feature Drone Aviation's FUSE Tether System, the company said Friday.
The company aims to showcase the potential use of its platform to deliver high-definition imagery and communications in real time.
Jay Nussbaum, chairman and CEO of Drone Aviation, said that tethered drone technology can work to support aerial monitoring and surveillance efforts.
The company also seeks to inform public safety and law enforcement personnel on the drone's capacity to aid search and rescue, barricade, crowd control, crash scene investigation and crash risk mitigation operations.
Drone Aviation will use a cellular LTE backhaul technology to live-stream the demonstration.