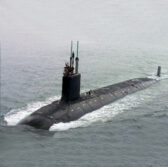 Curtiss-Wright has received a $28 million contract to help Bechtel's plant machinery division support the U.S. Navy's Virginia-class submarine construction and spare parts acquisition.
The order for fiscal year 2018 includes sets of valves and spares for the propulsion plant of two submarines, Curtiss-Wright said Thursday.
David Adams, chairman and CEO of Curtiss-Wright, said the naval defense contract facilitates the company's continued delivery of technologies for Navy programs such as the development of nuclear-powered ships.
Work includes engineering and manufacturing activities that will run through 2022 and will take place at the East Farmingdale, N.Y., facility of an industrial division unit at Curtiss-Wright's commercial/industrial segment.
Curtiss-Wright has supplied for more than 60 years products and services such as valve designs and power-dense motors that have supported all submarine and aircraft carrier programs of the Navy.