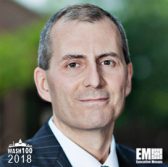 Carahsoft Technology has received a public sector solution provider designation from Amazon Web Services and agreed to offer a hybrid cloud service from an AWS-VMware partnership to government agencies.
The VMware Cloud on AWS offering is designed to help customers run information technology applications on a vSphere-based cloud environment, Carahsoft said Wednesday.
Carahsoft President Craig Abod, a 2018 Wash100 recipient, said the company will work with the other two technology firms to introduce the new cloud service to resellers and public sector market.
AWS' technology is built to help customers move and secure applications while VMware Cloud is designed to run on cloud infrastructure.
Carahsoft has helped technology providers distribute offerings via the AWS Marketplace over the past three years and has added AWS products to multiple government contract vehicles.