Carahsoft Technology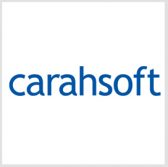 has received a potential five-year, $37.6 million blanket purchase agreement from the Defense Department to provide Qadium's software and services to the U.S. Navy's Space and Naval Warfare Systems Command Systems Center Pacific and other DoD agencies.
The BPA awarded through the Enterprise Software Initiative will run through May 16, 2023, and covers the delivery of Qadium's licenses and maintenance support for DoD, the U.S. Coast Guard and intelligence agencies, Carahsoft said Friday.
Carahsoft will support the BPA through its contract management, sales, marketing and partner enablement capabilities and conduct training webcasts on software updates and contract terms.
Qadium software platforms work to facilitate perimeter management workflows, digital asset recovery and customer signature monitoring.
Ebben Yazel, technology alliances manager at Carahsoft, said the company will work with its reseller partners to speed up the delivery of Qadium's perimeter defense platforms to the Navy and DoD through the BPA.
The agreement came a month after Carahsoft secured a potential five-year, $125 million BPA to distribute Red Hat's software and services to DoD and related agencies.