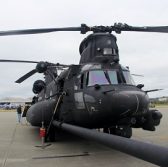 Boeing has received an $80.7 million order to build and deliver four MH-47G Chinook  rotary-wing helicopters to the U.S. Special Operations Command.
SOCOM issued the delivery order to address an "urgent" requirement to sustain special operations forces' heavy-assault, rotary-wing platform and address impacts of an increased SOF operational demand, the Defense Department said Thursday.
The command will obligate $33.7 million in fiscal 2018 procurement funds at the time of award along with $47 million in fiscal 2018 U.S. Army aircraft procurement funds.
Production of the helicopters will take place in Ridley Park, Pa.
Boeing delivered the first MH-47G configured unit to the Army Special Operations Aviation Command in September 2014 and the company said the platform includes a digital flight control system, monolithic machined-frames and an air transportability function.