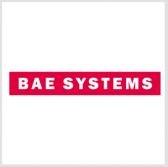 BAE Systems' electronic and information systems unit has received a potential $48.6 million contract to provide engineering support and maintenance services for the U.S. Air Force's ALR 56C and 56M radar warning receivers.
BAE Systems Information and Electronic Systems Integration will work on the electronic warfare RWRs and other related software tools in Totowa, N.J., through June 14, 2023, the Defense Department said Friday.
The indefinite-delivery/indefinite-quantity ordering contract contains additional options that could extend the project's completion date to June 15, 2028.
DoD added fiscal 2018 operations and maintenance as well as research and development funds worth $2.4 million will be obligated to the first minimum order at the time of award.
The contract was awarded through a sole-source acquisition process and fulfills work for the Air Force and foreign military sales to Australia, Canada, Egypt, France, India, Italy, Norway, Oman, Qatar, Saudi Arabia, South Korea and Taiwan.