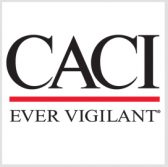 Amazon Web Services has designated CACI International as a "premier" consulting partner under the AWS partner network.
The designation reflects the Arlington, Va.-based contractor's expertise to support government clients in cloud infrastructure, application migration and cloud-based DevSecOps, the company said Wednesday.
CACI has helped clients secure information technology platforms at different data classification levels as the cloud company's public sector partner and authorized reseller.
The 2018 AWS Public Sector Summit will feature cloud-based products designed for intelligence, defense and federal civilian consumers.