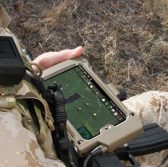 Rockwell Collins has announced a new platform designed to provide tactical combat targeting and communications capabilities in the digital battlefield.
The FasTAK wearable system consists of a laser range finder, a tactical computer, a video downlink receiver and digital targeting software that work together to provide communications and awareness data for warfighters, the company said Wednesday.
Users may access these features via mobile devices equipped with Microsoft's Windows and Android operating systems.
FasTAK's Windows variant weighs less than six pounds, while the Android variant weighs less than three.
The wearable system also integrates the TacNet Tactical Radio with an AN/PRC-162(V)1 manpack radio to provide digital connectivity and enable operation with the targeting software. The system's transportable container houses laptop hardware that uses data link processor software to manage radio frequencies, data forwarding and data links.
Rockwell Collins is exhibiting the FasTAK at the Canadian Association of Defence and Security Industries' trade show taking place Wednesday to Thursday.