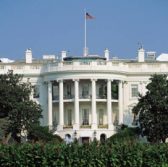 The White House is set to hold a meeting on Thursday with executives from at least 30 U.S. technology companies as part of efforts to advance the use and deployment of algorithms, robots and other artificial intelligence technologies, the Washington Post reported Tuesday.
A draft schedule of the meeting says the Trump administration aims to ask AI developers, government executives and academics about approaches to adapt policies in order to promote the use of AI in transportation, health care, agriculture and other fields.
The event will also discuss the potential impact of AI on jobs.
The report said representatives from companies such as Microsoft, Accenture, Amazon, Intel, Oracle, Nvidia, Ford, Pfizer, Land O'Lakes, Mastercard, United Airlines, Google and Facebook are expected to attend the event.
Some of the executives that are slated to participate include Paul Daugherty, chief technology and innovation officer at Accenture; Intel CEO Brian Krzanich; Rohit Prasad, head scientist for voice assistant platform Alexa at Amazon; and Jerome Pesenti, vice president of AI at Facebook, the report added.