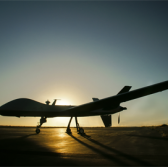 The Defense Department has decided to sell General Atomics-built Predator-B armed  unmanned aerial vehicles to the Indian military,  Hindustan Times reported Tuesday.
U.S. and Indian diplomatic officials told the publication that DoD conveyed its decision through government channels.
The report said Defense Secretary Jim Mattis and Secretary of State Mike Pompeo could bring up the proposed sale of weaponized UAVs at their "two-plus-two" meeting with Sushma Swaraj and Nirmala Sitharaman, respectively Indian external affairs and defense ministers, later this month in Washington.
Predator-B is available in land and naval versions and designed to carry air-to-land and anti-ship missiles as well as laser guided bombs.
DoD previously approved India's request to buy 22 Guardian drones intended for maritime surveillance missions.