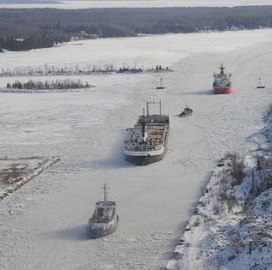 The U.S. Coast Guard uses sensor technologies and satellites to perform communications, situational awareness, navigation and remote sensing operations in the Arctic region, National Defense reported Tuesday.
A 2018 report by the Homeland Security Operational Analysis Center says some of the technologies the Coast Guard uses for navigation and domain awareness include personal locator beacons; long-rang tracking and identification systems aboard aircraft and cutters; satellite imagery sources; and the International Cospas-Sarsat satellite system for search-and-rescue missions.
The report also noted that Arctic-based operators use Iridium Communications' satellite constellation and other satellite capabilities for voice communications.
The operational analysis center is a federally funded research and development center that RAND Corp. runs for the Department of Homeland Security.
Adm. Paul Zukunft, the Coast Guard's outgoing commandant, said the service will launch its first two Polar Scout satellites in the summer of 2018 to support search-and-rescue operations in the Arctic region's remote areas.
Millennium Engineering is the prime contractor for the Polar Scout program, while Raytheon and Rincon Research and Space Dynamics Laboratories respectively served as system integrator and communication payload developer, the report noted.