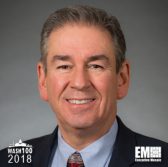 Raytheon has been selected to Cybersecurity Ventures' annual list of the "hottest and most innovative" cyber companies, which include both start-ups and long-established firms.
The Waltham, Mass., company said Tuesday it placed fourth on the 2018 Cybersecurity 500 list, based on efforts to expand its international customer base for cyber defense and its attainment of the Development, Operations and Maintenance contract with the Department of Homeland Security.
Dave Wajsgras, president of Raytheon's intelligence, information and services business, and a four-time Wash100 winner, said the ranking recognizes his company's unique ability to leverage its defense industry experience with commercial technologies.
Steve Morgan, editor-in-chief and founder of Cybersecurity Ventures, cited Raytheon's contributions to STEM education, steady growth and strategic partnerships as reasons for its inclusion on the list.
DHS' DOMino contract encompasses the safeguarding of 16 sectors of critical infrastructure and the networks of over 100 government agencies, including the U.S.' .gov domain.