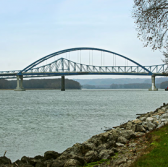 The American Public Works Association's Illinois chapter has recognized Parsons' project to replace the U.S. 52 bridge across the Mississippi River.
Parsons said Thursday it received the 2018 Public Works Project of the Year Award, under the category for transportation projects worth over $75 million, for its work on the Dale Gardner Veterans Memorial Bridge. The Pasadena, Calif., company provided engineering and lead design services; structural, environmental and roadway studies; coordination of community involvement; and railroad alignment for the Illinois Department of Transportation.
The memorial bridge was opened in November 2017, aiming to preserve the wetlands of the Upper Mississippi River National Wildlife Refuge and relieving the former bridge that linked Savanna, Ill., and Sabula, Iowa. The new bridge features foundations made of drilled-shaft and steel-pile, a long tied arch spanning 546 feet and steel girder approach spans that total 1,900 feet.
APWA's award is intended to recognize the collaboration of agencies, contractors and consultants for public works projects.