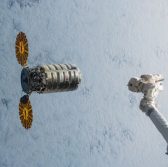 An Orbital ATK spacecraft has completed berthing maneuvers with the International Space Station as part of the company's ninth resupply mission with NASA.
The company said Thursday the Cygnus spacecraft dubbed "S.S. J.R. Thompson" carried 7,400 pounds of cargo consisting of supplies and experiments to ISS.
The spacecraft launched Monday from Wallops Flight Facility in Virginia aboard an Antares rocket.
ISS crew secured the spacecraft and guided it to the berthing port using the station's robotic arm, and Orbital ATK said they were set to open the hatch in preparation for the unloading of the pressurized cargo.
Cygnus will load up to 7,100 pounds of cargo for disposal upon its departure after seven weeks of being docked at the space station.
Reentry will take place after six CubeSat units have been launched from a NanoRacks deployer.