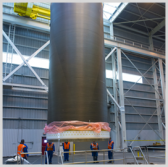 Orbital ATK has completed casting the first motor of the OmegA rocket with approximately 55 600-gallon mixes of inert propellant.
The company said Tuesday it wrapped up the casting process in April for the Castor 600 aft segment as part of the Common Boost Segment program for OmegA, previously called Next-Generation Launcher.
Orbital ATK built the OmegA rocket for the U.S. Air Force's Evolved Expendable Launch Vehicle program and unveiled it at the Space Symposium in Colorado in April.
Charlie Precourt, vice president and general manager of Orbital ATK's propulsion systems division, said the company plans to conduct ground tests of the rocket in 2019 and flight tests by 2021.
Castor 600 serves as the first stage of the rocket's intermediate configuration, while Castor 300 is the launch vehicle's second-stage motor.
The company said it will conduct the second casting process for the Castor 600 inert forward segment in the summer of 2018 with plans to perform two static tests of the first- and second-stage motors by 2019 for the rocket's intermediate version.