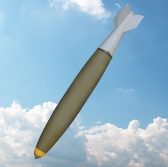 Orbital ATK has signed a teaming agreement with IMI Systems to produce and offer a bomb technology to the U.S. defense market.
The partnership seeks to manufacture a variant of IMI's Multi-Purpose Rigid Bomb weapon designed with precision, collateral damage reduction and penetration capacities, Orbital ATK said Wednesday.
Pat Nolan, vice president and general manager of missile products at Orbital ATK's defense systems business, said both companies aim to explore how the team can transition MPR500 to the U.S. military.
IMI originally developed the weapon with MK-84 performance and MK-82 dimensions for the Israeli military.