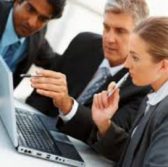 The Defense Department has given a team from Northrop Grumman the Nunn-Perry award for supporting QTEC Aerospace with its business operations for three years under the Missile Defense AgencyҪs Mentor-Prot̩g̩ Program.
Northrop Grumman said Monday QTEC saw its business and workforce expand during the effort.
The Va.-based firm also worked on the program in collaboration with Oakwood University, which trained QTEC personnel on securing key security credentials.
The Mentor-Protégé Program works to help small businesses compete for contracts and subcontracts with the help of matured companies.
The training initiative is managed under Northrop"™s Global Supplier Diversity program, which aims to address the concerns of startups with subcontracting opportunities.
Northrop has trained over 130 small companies for 26 years and received 24 Nunn-Perry awards.