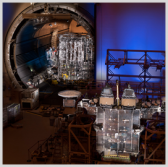 Lockheed Martin has completed a series of launch environment tests for its fifth Advanced Extremely High Frequency satellite designed to provide protected communications capabilities for U.S. and allied warfighters operating on maritime, aerial and ground platforms.
Lockheed said Monday it subjected the AEHF-5 satellite to extreme heat and cold temperatures as part of the 39-day thermal vacuum chamber testing and low-frequency, high-intensity sound waves through acoustic testing to simulate future rocket launch and on-orbit environment.
"TVAC and acoustic tests are critical milestones in the production cycle of a satellite, where we have one shot to get it right, so we take every precaution to ensure the vehicle is ready for the harsh space environment," said Michael Cacheiro, vice president for protected communications at Lockheed"™s space business.
Cacheiro said AEHF-5 is now in system-level testing as the company prepares to hand over the satellite to the U.S. Air Force in 2019.
Lockheed plans to deliver AEHF-4 to Cape Canaveral Air Force Station in Florida later this year in preparation for its launch aboard United Launch Alliance"™s Atlas V rocket. The launch of AEHF-4 will complete the minimum number of satellites required to deliver extended data rate service to military personnel and international partners worldwide.
Lockheed serves as the prime contractor on the AEHF development effort, while Northrop Grumman"™s aerospace systems business provides payloads for AEHF satellites. The Air Force"™s military satellite communications systems directorate oversees the AEHF team.