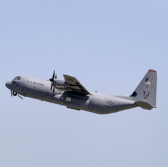 Lockheed Martin has completed the last two C-130J-30 Super Hercules deliveries to a U.S. Air Force base in Japan.
The company said Tuesday 36th Airlift Squadron crews stationed at Yokota Air Base use the airlifters to conduct cargo delivery, troop transport, airdrop and aeromedical operations in the Western Pacific region.
Yokota received a total of nine C-130J-30s from the company and obtained another five Super Hercules units from other USAF operators through a fleet rebalancing effort.
The U.S. government intends for the C-130J to serve as the common airlifter platform across the Air Force Special Operations Command, Air Mobility Command, Air Combat Command, Marine Corps and Coast Guard.