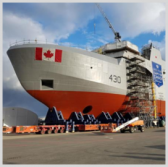 The marine, power and space systems and simulation business of L3 Technologies has completed an acceptance test for a control platform of the future Arctic and offshore patrol ships of the Canadian navy.
Irving Shipbuilding said Friday the Integrated Platform Management System it ordered from L3 MAPPS passed the First Article Acceptance Test.
Kevin McCoy, president of Irving Shipbuilding, said the conclusion of the IPMS First Article Acceptance Testing supports the company's planned launch of the HMCS Harry DeWolf by fall this year.
Rangesh Kasturi, L3 MAPPS president, said the completion of the acceptance test helps progress the company's upgrade of the IPMS of the Halifax-class frigates. Kasturi added that it developed the IPMS in partnership with the Canadian navy 35 years ago.
The IPMS is designed to monitor and operate the ancillary, auxiliary, electrical, propulsion and damage control machinery of the ship. The ship management platform's features include systems for battle damage control, equipment health monitoring and onboard team training and a closed-circuit television.
L3 MAPPS' product is geared to integrate with the combat management and navigation platforms of a ship.
The Canadian forces intend to acquire offshore patrol ships that can be used in naval ice operations through the AOPS program under its National Shipbuilding Strategy.
Irving Shipbuilding's Halifax Shipyard and the first-tier suppliers had received up to $2 billion in commitments across Canada with $270 million from Quebec as of March 31.