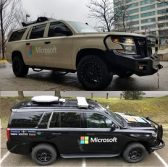 Kymeta and Microsoft will simultaneously perform demonstrations for land mobile, maritime defense and first responder technologies during the 2018 Special Operations Forces Industry Conference and Connectivity Expo.
Demonstrations will feature Kymeta's KyWay satellite terminal connecting Microsoft's land vehicles to the Internet-of-Things, the former said Tuesday.
The tactical and patrol vehicles will make use of Windows Apportals and Azure Cloud integration during the trials that aim to demonstrate end-to-end communications capacities.
Scott Montgomery, senior industry solution manager at Microsoft, said the Azure cloud is designed to be locally replicated for deployed environments such as patrol vehicles, firehouses and command posts.
He added that the platform works to support first responder and defense applications involving the use of drones, robots and IoT devices.
The two vehicles to be used in the demonstration are modified versions of the Chevrolet Suburban and Tahoe.
The 2018 SOFIC and Connect X will take place in Tampa, Fla., and Charlotte, N.C.
Both events will be held May 21 to 24.