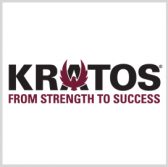 The Air Force Global Strike Command has approved Kratos Defense and Security Solutions' aerial gunnery simulator to aid training of special mission aviators.
Jose Diaz, senior vice president at Kratos' training solutions business, said in a statement published Tuesday the AGT Simulator seeks to address AFGSC's annual continuation training requirements.
The company trains special mission aviators at its Aircrew Training Center in Orlando, Fla., as part of a contract with KBRwyle, the government services business of KBR.
ATC is equipped with full-mission simulators that instructors use to prepare the command's aircrew members for future missions.
Kratos also provides crew coordination, rescue hoist and cargo sling training services at the center.