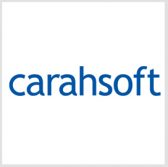 At the 2018 Ivanti Partner of the Year Awards, Americas during the Ivanti Interchange18,  Ivanti recognized Carahsoft Technology as Distribution Partner of the Year.
Carahsoft Technology helped Ivanti develop and implement strategies for targeted marketing and sales, resulting in 24 percent growth in new business.
"Carahsoft is honored to be recognized as a valued partner for a third year in a row," said Craig P. Abod, Carahsoft president, and 2018 Wash100 recipient. "As we strive to provide the best-of-breed solutions to our government customers and reseller ecosystem, partnerships with Ivanti and other leading technology manufacturers allow us to continue to bring cutting edge IT to the public sector.
Ivanti recently broadened the resources for its partner program that supports providers of managed services, expert solutions and national sales and alliance and distribution partners.