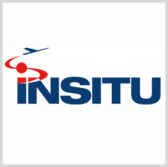 Boeing's Insitu subsidiary has partnered with the University of Alaska Fairbanks for an effort to help state, local and tribal governments integrate the use of unmanned aircraft systems into the country's airspace.
The partnership will work to support the Federal Aviation Administration's UAS Integration Pilot Program, which aims to develop new aviation regulations for unmanned aircraft usage, Insitu said Tuesday.
The subsidiary and the university will demonstrate UAS applications encompassing urban setting operations, night operations and beyond visual line of sight flights.
Rules that would result from the pilot program are intended to balance local and national UAS interests, augment communications between multiple jurisdictions, address security risks and streamline authorization processes for UAS operations.
UAF is among the 10 institutions that the Department of Transportation selected to take part in the pilot program.