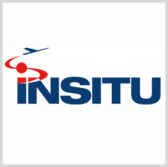 The University of North Dakota has expanded a partnership with Boeing's Insitu subsidiary in a move to expand UND's unmanned aircraft system curriculum and fleet.
Insitu said Wednesday the university will incorporate Catalina, INEXA Control and TacitView software platforms into its aviation program by fall 2019,
UND also intends to adopt the ScanEagle 3 platform to augment the university's current fleet of more than 150 aircraft.
The UAS manufacturer will also help the university conduct flight training meant to help students experience operating as pilots, sensor operators and mission commanders.
Insitu added it seeks to develop sensors, detect-and-avoid and beyond line-of-sight technologies through the partnership.
The university previously collaborated with Insitu's flight operations team to deploy a ScanEagle and monitor the water level on Red River Valley after the Federal Aviation Administration issued a certificate of authorization.