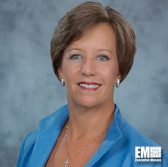 Rebecca Cowen-Hirsch, senior vice president for government strategy and policy at Inmarsat Government, told C4ISRNET in an interview published Wednesday that the Defense Department"™s National Defense Strategy highlights the need to build up space-based threat awareness and safeguard military and commercial space assets from adversaries.
Cowen-Hirsch said the space sector should bolster support for military and enterprise satellite communications systems through investments in Overhead Persistent Infrared technologies, protected and wideband communications, GPS augmentation and network diversification efforts.
"This new strategy shifts focus of some mission sets to support advancements in maritime and aeronautical [intelligence, surveillance and reconnaissance] and other highly mobile tech demanding of resilient SATCOM," she added.
She noted that defense, intelligence and commercial organizations should be prepared to deter and defend critical assets against evolving threats across space, maritime, ground, air and cyber domains.
Some of the potential threats cited by Cowen-Hirsch include cyber intrusions that home in on critical infrastructure; on-orbit threats; unmanned assets; and satellite jamming incidents.