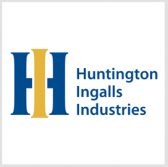 A Huntington Ingalls Industries division held a keel-authentication ceremony on Wednesday for the 21st Virginia-class submarine of the U.S. Navy.
The ceremony for the SSN 794, which will be named after the state of Montana, featured former Interior Department Secretary Sally Jewell, the sponsor of the ship, chalking her initials on a steel plate traced by a Montana-native welder of Newport News Shipbuilding, the company said Thursday.
Cmdr. Mike Delaney, the commanding officer of the pre-commissioning unit, said the keel laying serves as the first milestone in the construction of the submarine. The steel plate will be a permanent fixture on the submarine.
The company commenced construction of the Montana on May 2015 and expects delivery by late 2020. Construction of the vessel has reached approximately 46 percent completion.
A Native American from the Blackfeet Nation in Montana conducted a traditional blessing during the keel-authentication ceremony.