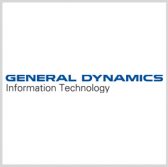 General Dynamics' information technology business has received a $9 million sole-source contract to help the U.S. Air Force implement a cloud services environment.
The Cloud Hosted Enterprise Services infrastructure is designed to provide the military branch access to Microsoft Office 365 services and additional services from Amazon Web Services, Oracle and SAP, General Dynamics said Tuesday.
GDIT will work to deploy CHES at Wright Patterson AF Base in Ohio and up to two additional AF installations under the contract.
GDIT will also help maintain and operate the cloud-based environment for 18 months.
The service branch originally awarded the CHES contract to the NES Associates subsidiary of CSRA, which General Dynamics acquired through a $9.7 billion deal that closed April 3.
CSRA helped the Air Force and Defense Logistics Agency cloud-based computing storage and networking architecture as part of the Collaboration Pathfinder program.