General Atomics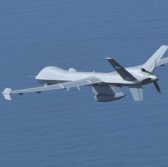 "™ aeronautical systems business has partnered with CAE, L3 Technologies"™ Wescam subsidiary and Maxar Technologies"™ MDA business to form an industry team that aims to meet Canada"™s requirements for multi-mission remotely piloted aircraft systems.
Team SkyGuardian Canada will offer the MQ-9B SkyGuardian drone for the Canadian armed forces"™ RPAS project that seeks a medium-altitude, long-endurance RPA and related systems and services, General Atomics said Tuesday.
The General Atomics-built MQ-9B aircraft is designed to carry wide-area maritime radars and sensor payloads and provide more than 40 hours of flight time.
Linden Blue, CEO of General Atomics Aeronautical Systems Inc., said the industry team will continue to add small- and medium-sized businesses in Canada in support of the country"™s RPAS program.
Joe Armstrong, vice president and general manager of CAE Canada, said the company will leverage its experience in aircrew training and in-service support delivery as part of the industry team.