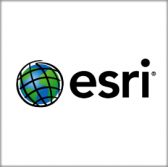 Esri has opened an office within an innovation hub and technology district in St. Louis, Mo., to support users of the company's geographic information system product.
The company said Wednesday its new facility located at the city's Cortex Innovation Community is a five-minute drive away from the National Geospatial-Intelligence Agency's Next NGA West campus.
"We are looking forward to the opportunity to better serve customers like the NGA, which is continuing to make St. Louis its home," said Patty Mims, director of Esri's national government business.
The GIS technology maker intends to serve intelligence, defense and agricultural organizations through the office.
Esri noted the Cortex neighborhood features an innovation hall that is built to accommodate up to 300 people and designed with drop-in workspaces.
The company also has a facility in St. Charles.