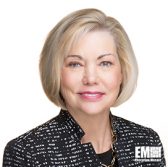 Lynn Dugle, CEO and chairman of Engility, headed Thursday a discussion on women in the U.S. intelligence community at the inaugural symposium of the Intelligence and National Security Alliance.
Dugle spoke to executives from the intelligence community on the representation of women in the national security and technology sectors and their professional challenges and leadership track at the forum titled The New IC: Empowering Women and Engaging Men, Engility said Friday.
"I hope that each of us will accept the invitation and the challenge of looking at diversity and equality in the workplace," she said, noting that men and women should help each other succeed.
Suzanne Wilson Heckenberg, chief operating officer of INSA, said Dugle's background and insight as a chief executive of a services provider to the intelligence and national security communities echo the symposium's objective for the attendees.
Dugle, a 2018 Wash100 awardee, was the first executive from the intelligence and national security sector to sign the pledge of the CEO Action for Diversity and Inclusion.
She has been recognized in the Washington Business Journal's "Women Who Mean Business" list in 2017 and the Profiles in Diversity Journal's "Women Worth Watching in 2017" list.