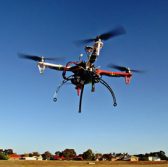 Echodyne has been selected to provide radars to the North Dakota Department of Transportation under a federal project that aims to test drone integration into the national airspace.
NDDOT will use the Metamaterial Electronically Scanning Array technology for weather detection and tracking as part of the state's Integration Pilot Program, Echodyne said Thursday.
The U.S. Transportation Department selected NDDOT to conduct the pilot project.
Russ Buchholz, NDDOT UAS Integration Program administrator, said the department aims to demonstrate an approach to manage safety of UAS operations with Echodyne-made radars.
North Dakota's team intends for the project to help increase the scalability of UAS applications in linear infrastructure inspection, crop health monitoring, media reporting and emergency response.