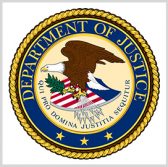 The Justice Department's Federal Bureau of Prisons has issued a request for information on potential tools and services to modernize a system used to manage inmate records.
A FedBizOpps notice posted Thursday says the bureau looks to update its mainframe-based SENTRY platform that includes common business-oriented language and assembler programs.
BOP also seeks a code conversion methodology; databases and programming languages that can support the conversion process; and platforms and runtime libraries necessary to finalize the system.
The bureau will use input from industry to determine and refine specifications for the eventual purchase of the sought services.
Responses to the RFI notice are due May 21.